A MEMORY OF LEAVES
It's such a simple thing… raking leaves.
On an overcast day with a light breeze, I was raking up piles as more leaves flutter down around me. The large golden maple leaves were wet on the ground. Underneath, there were older leaves half-covered in mud, others starting to rot. It was almost a shame to scrape that sunny carpet off the dirt and grass. I rather liked it there. But art and leaves don't always agree, so I dutifully raked them into piles.
The other side of the yard was a very different story. Under a large Japanese maple, the leaves made a mound of burgundy interspersed with gold, green and orange. I watched as the rake turned over the mounds. Mesmerized by new shapes and a myriad of colors that enchanted me. Stooping to pick up a few, I held them in my palm and inspected closely, committing to memory the delicate saw-tooth edges and delicate colors. Just when I thought I had them memorized, I turned over more leaves with new and different tones.
I slipped half a dozen into my pocket and sneaked off to find my sketchbook. Raking the other leaves could wait. The leaves were easy to draw, sagely sitting there on my pad. Drawing the shapes helped me store them in my mind-ready to retrieve for future forays into leaf drawing. Leaves are tricky things. They look so simple, but they carry whole summers and falls in their blushes and tints. Brown and dry, they curl like elderly hands, reminders of mortality and the simple beauty of transition. Painting them means reaching out to those things embodied by the simplest of things in our lives. Raking leaves, raking memories.
The colors, on the other hand, were a different matter. Using ink pencils, I laid down the first washes. They always dry pale, but as they dried, so too did the leaves. Without time to finish, I had to pack up and return home. When I pulled out the leaves, they had dried and dulled and lost their vibrancy. I continued to lay down washes relying on my memory of those colors-the dappled shapes-then began the delicate blending.
You cannot escape the practical side of painting any more than you can escape raking leaves. What is the palette of memory and the mind's eye? Somehow the exacting process of watercolor washes mimics memory, layer upon layer, filling in the blanks, building depth and density. Gestures guide the mind as much as the mind guides the brush.
Could my memory match the natural beauty of those leaves? The next time I paint leaves, will my mind conjure the life, the light and the interweaving of shapes and shades? Perhaps. Perhaps not. All of my life is stored in my memory, waiting to step forward when needed. Anxious and eager for the opportunity to be displayed as part of my own personal universe of illustrations. Used as part of my arsenal of imagery that will never be filled to my satisfaction. I'll always add to it. See things that inspire. Constantly imagining a curve or a scroll in a future incarnation on my paper.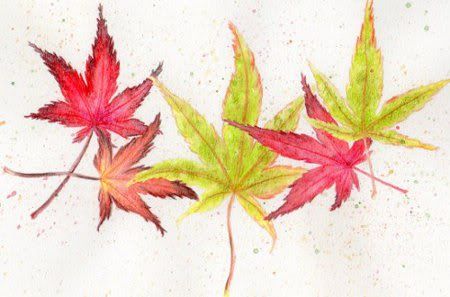 That's why there is such merit to raking leaves, I guess. They let you see what you thought you knew. The simple wonder of "seeing" is a lesson to be learned. The trick, I guess, is to NEVER stop learning it.
Posted on 11/26 at 03:34 PM